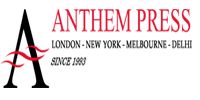 Buy

ANTHEM PRESS

Products Online
Since 1993, Anthem Press has specialized in the publishing of new academic research, professional and trade books and e-books within established and emerging social sci...
Show More
Since 1993, Anthem Press has specialized in the publishing of new academic research, professional and trade books and e-books within established and emerging social sciences, humanities and business fields. We are significantly expanding our program and offering a desirable alternative to leading global university presses. Our publications include scholarly monographs, research collections, edited collections, handbooks/reference, professional and academic trade, and upper-level/modular textbooks. Additionally, we offer initiatives for authors wishing to publish significantly shorter books, from mid-length monographs (Anthem Impact) to concise introductions or essays on big issues/ideas, written by experts for a more general audience.
Anthem Press continues to be entrepreneurial in spirit and flexible in our author-friendly approach. We are dedicated to fast production times, high-quality editorial development and rigorous peer reviews, and effective global marketing.
Headquartered in London (UK) with sales and distribution outlets in the USA, UK, Australia and India, Anthem Press, an imprint of Wimbledon Publishing Company, is supported by an international team of sales representatives, agents and publishing professionals, and by a highly capable and scalable integrated support team in India. We are members of many industry associations around the world. Discover More
The Press at a Glance
Efficient Publishing Process. Our streamlined publishing platform and entrepreneurial approach allow for quick publication decisions and a streamlined publication process faster than traditional presses.
Production and Editorial Quality. We maintain the intellectual quality of the titles we publish by following professional standards in copyediting, layout, and manufacturing and through the use of new technologies. All manuscripts go through a rigorous and timely peer review by recognized authorities in the field.
Marketing and Sales. We reach our primary target audience effectively by positioning our books well, conducting global targeted marketing campaigns and comprehensively distributing through our international network of agents and representatives.
Experimentation and Innovation. We are regularly exploring new business models and publishing techniques. Our interest includes the application of emerging technologies and innovative platforms.
Author Care. We value our authors and are committed to the value of their contributions to the scholarly and wider community. We build collaborative relationships with our authors, paying careful attention to every aspect of the publication process - editorial, production, and marketing.
Partnerships and Collaboration. We publish many of our books in association with a wide variety of other organizations, including scholarly international institutes, non-governmental organizations, financial institutions and other publishers around the world.
About the Publisher and Managing Director, Tej P. S. Sood
Publishing seems to be in Tej's blood. Before the 1947 partition, his great-grandfather Dr. Prithi Singh was a successful printer-publisher in Lahore and the publisher of Mast Qalandar, the most popular Urdu-language magazine in India. Tej's grandfather Sardul Sood ran a small printer-cum-publishing outfit in the 1960s in London while Tej's father, Kamaljit Sood, established the parent company of Anthem Press in 1993 and is presently its Chairman.
We are proud supporters of the Stationers' Company (of which Tej is a Liverman) and the Adyar Cancer Institute, a Chennai-based cancer hospital delivering free cancer care for thousands of poor patients and which was founded in 1954 by Tej's great-grandmother-in-law, Dr. Muthulakshmi Reddy, an eminent medical practitioner, social reformer and Padma Bhushan awardee in India.
Show Less